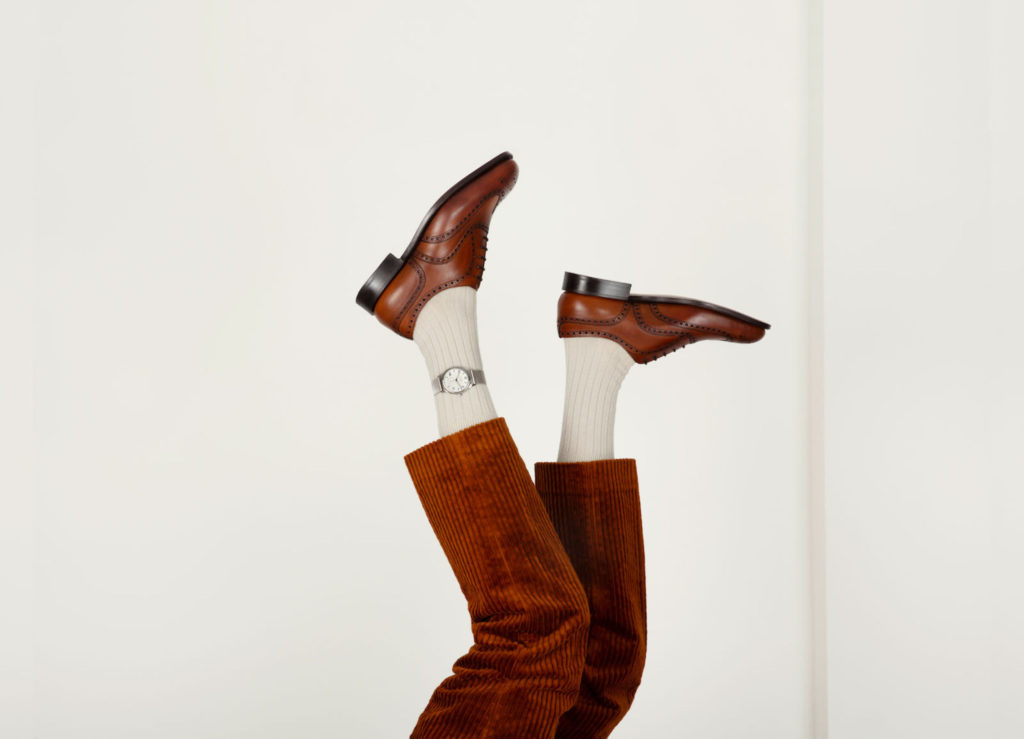 Not sure what size your wrist is? Neither do we. Which is why we've created this little guide, so that the next time you purchase a watch, we'll have it ready to wear right away.

---
Beyond the Bracelet – An Introduction to Watch Straps
By far the easiest (and most fulfilling) way to breathe new life into a watch is by changing the strap. Timepieces can look remarkably different with the addition of a new strap, and the market is full of options when it comes to materials, colours, and styles. When considering the purchase of a new strap there are a few things to first be aware of.
First is that bracelets are typically much more difficult to replace because of their proprietary nature, and because they are designed to specifically match one watch. There are exceptions of course (such as with mesh metal "Milanese" bracelets), but for the most part if your watch comes on a bracelet already and you want to replace it, your only safe options are to buy another factory-standard bracelet for the same exact watch, or to replace the bracelet with a strap.
Proprietary Connector?
It is also very important to determine whether or not your watch uses a proprietary connector. Most watches use "standard" connection means which relies on a straight spring bar which holds a strap in place. All you need to do is measure the distance between the lugs (usually between 18-24mm wide) and find a strap that matches the size. However, a lot of watch makers use proprietary strap connection systems. If this is the case for your watch you aren't out of luck, but you'll typically need to go to the original manufacturer and see what straps options they have.
Common Options
The most popular watch straps today are produced from nylon (NATO-style), leather, alligator/crocodile, rubber, and silicone. The latter can be comfortable but is usually a cheaper alternative to rubber. Rubber is the sportiest and often most comfortable of all the straps, but often doesn't always have an elegant or formal look.
Exotic or rare animal skins are typically the most expensive straps. The most common exotic animal skins are various reptile skins like crocodile, but you can also find straps made from ostrich, shark, stingray, or even toad, among other animals. Cow leather watch straps are the most common animal skin straps, but quality, colours, styles, and textures vary widely.
Muted vs Flamboyant 
There is a reason that most watch straps are either black or brown – and that is because such colours match most of the things people wear. Don't limit yourself though and ensure that the watch strap colour and style you get matches the watch more so than what you are wearing. In other words, the strap needs to match the watch more than it needs to match what you are wearing. Sometimes watches even look better on after-market straps than they do on the stock straps, and you should never be afraid of loud or unconventional colours.
While after-market watch straps can be impressively expensive, the vast majority of them are not. NATO-style nylon fabric straps are perhaps the most inexpensive options out there with prices generally in the $10-$20 range. These straps are comfortable and sporty, but can add bulk to a watch given the typically long length of the strap. Cow or calf leather straps are easy to find, but it is important to consider texture and stitching style in addition to colour. Like most animal skin straps, with contrast wear a leather strap will need to be replaced each 1-2 years.
Changing Straps 
Watch straps can typically be easily swapped by the owner with just a few special tools (typically not very expensive) and some basic skills and care. The real issue is ensuring that you don't scratch or otherwise damage your watch in the process of changing straps. Changing straps on a regular basis is both fun and wise for those looking to get the maximum amount of life out of their watches. No matter how expensive or economical your timepieces may be, chances are that with the right alternative strap options you can make them look more interesting or appropriate for a range of situation.
If you'd like to enquire into manufacture straps for your timepiece or seek assistance changing a strap, our team of watch specialists would love to assist. Please feel free to contact us here.